Dallas home destroyed following gas explosion
DALLAS – A Dallas home was destroyed in a fire caused by what fire officials said was a gas explosion overnight Thursday. Another home nearby was also damaged. 
A neighbor in the 8700 block of San Leandro Drive, near White Rock Lake, called 911 after hearing a loud bang just after 1 a.m.
They later saw that the house across the street was on fire. 
There was heavy fire coming from the one-story home when emergency responders arrived.  Fire crews were able to put the fire out within an hour. 
That home was destroyed by the flames. Heavy equipment was moved in to take down what was left of the home.
Shingles, shards of wood, and other debris were carried as far as 60 feet from the force of what looks like an explosion.
"To see something like that tells you that something significant occurred," said Jason Evans, with Dallas Fire-Rescue.
The four people who live at that address were not home at the time and are out of town.
Neighbor Keith Sosnoskie said the people who live in the home that was completely destroyed were away on a fun vacation 
"They weren't home. They were in Colorado skiing with one of the children," he said.
It was likely a heart-breaking moment for a family on a fun vacation, cut short by an urgent phone call.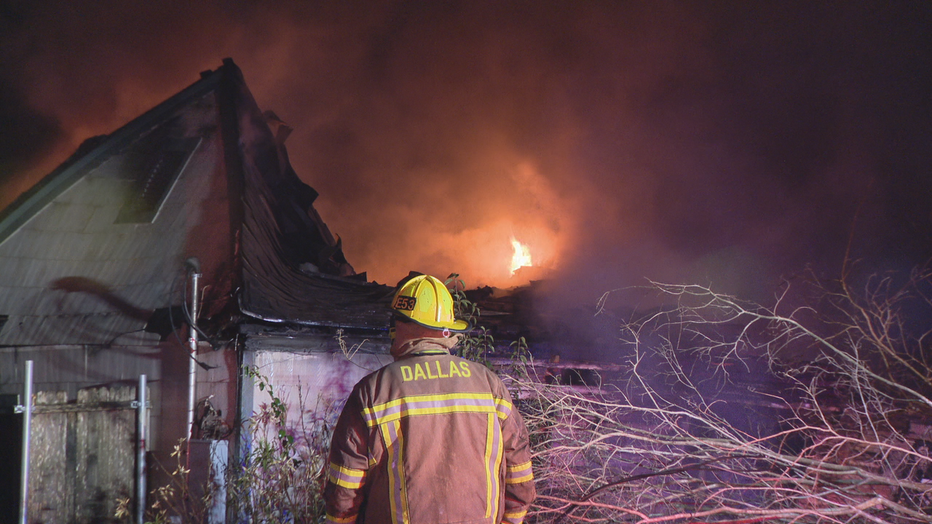 "It was fully involved when we arrived and there were flames impinging on the neighboring house," Evans said.
The fire did spread to a neighboring home, leaving exterior damage, but the woman who lives in that home, along with her cats, made it out safely.
"She was planning to move in the near future, so it's kind of sad that this happened," Sosnoskie said.
Atmos crews have been on the scene since early Friday morning as they checked gas lines and tried to find out if this is another gas explosion.
Fire investigators are continuing to investigate the cause of the fire, but Dallas Fire-Rescue announced the fire was the result of a gas explosion inside the front area of the house. 
Though investigators were not able to find a competent ignition source before the house was torn down.
"We had a lot of people call 911 reported hearing a loud bang," Evans said. "Some reported, described it as an explosion. Based on what we can see out here, the debris field is indicative of an explosion."
No injuries were reported.
READ MORE: North Texas could get wintry mix Friday